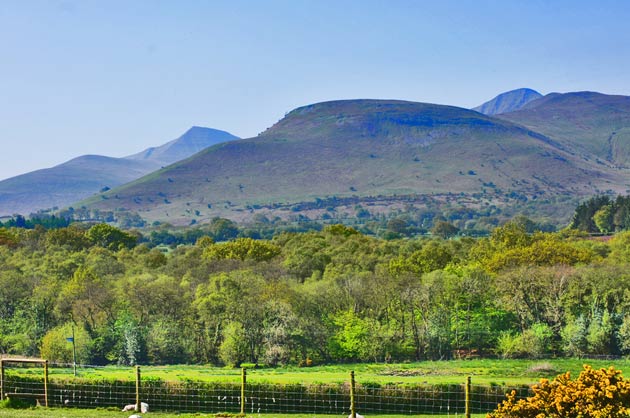 Covering an area of 520 sq miles the Brecon Beacons National Park contains some of Britains most spectacular and a wide ranging scenery. 
With it's impresive mountain ranges, native forests, salmon and trout filled rivers, lakes and moorland the National Park is a great location for outdoor pursuits.
There is something for everyone including walking, cycling, mountain biking, horse riding, sailing, windsurfing, canoeing, fishing, rock climbing, hang-gliding and caving.
The Brecon Beacons
At the central point of the National Park, the Brecon Beacons is a mountain range to the south of the town of Brecon in South Wales. Spectacularly dominating the skyline, Pen y Fan, is the highest point in southern Britain and rises to 886 metres.
It is thought that the Brecon Beacons are named after the ancient signal beacon fires on mountains, historically used to warn of attack. In present times these Beacons are used to commemorate public events, including recently to mark the Queen's Diamond Jubilee.
Fforest Fawr Geopark
Fforest Fawr (Great Forest) is an area of upland country that covers the western half of the Brecon Beacons National Park.
The Geopark was set up to safeguard and enhance geodiversity, biodiversity and cultural heritage in the National Park. The countryside includes mountains and moorland, woods and meadows, towns and villages, lakes and rivers.
For several centuries Forest Fawr was a royal hunting ground, but is now home to sheep grazing, forestry, reservoirs and outdoor pursuits.
Fforest Fawr is a member of the European Geoparks Network and the UNESCO-assisted Global Geopark Network.