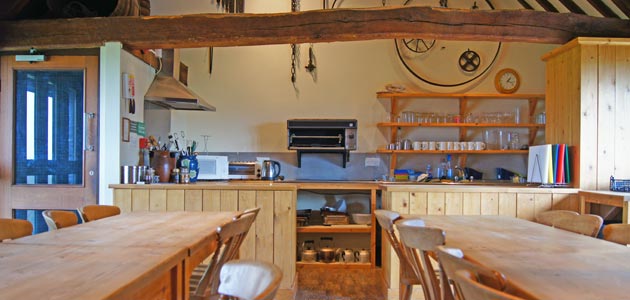 Much of the original stone and timber character of the barn has been retained in the upstairs Common Room which is furnished with free-standing tables and chairs to seat 24, and a mezzanine floor with leather sofas to relax on.
The kitchen also forms part of the Common Room and is fully equipped with gas cooker and grill, refrigerator, freezer, dishwasher, and all the necessary cooking utensils, crockery and cutlery. Cleaning materials are provided. Some groups prefer to cook for themselves but a full catering service can be arranged should a group wish to have some or all meals provided. Further details can be found on our Food page.
There are five well-equipped washrooms each fitted with a washbasin, toilet and hot shower.
There are five bedrooms providing 2, 4, 4, 6 and 8 sleeping places with interior sprung mattresses throughout. All bedrooms have electric razor points and power points for hair dryers etc. A pillow is provided for each bed, and duvets are available for hire.
Steps lead down from the Common Room to the sheltered outdoor picnic/barbecue area which is equipped with its own barbecue and seating for at least 24. The field behind the Bunkhouse can be used for expedition training, barbecues or outdoor recreation. Access from the main road to the Bunkhouse is by a private road suitable for cars and small buses.
The entrance hall has space for boots and anoraks and across the yard there is a drying room. Common Room has a number of power points.